What is a Steel Frame Home?
Steel frame houses are built using the structures of thin, light and strong steel with the use of environmentally friendly insulation. Steel framed homes are lighter, more durable, and more cost-effective to assemble than building with timber. Steel frame homes and buildings are one of the rising trends of the construction industry in these years. Steel framing studs, are now gaining in popularity in residential construction and are becoming available for use in homes at more affordable prices. The steel frame house method, which is an alternative to classical construction cycles, enables durable structures to be created much faster. When choosing to construct a steel home, you are not limited to choosing a floorplan that is pre-set. You can customize your steel home with a layout that best fits your needs.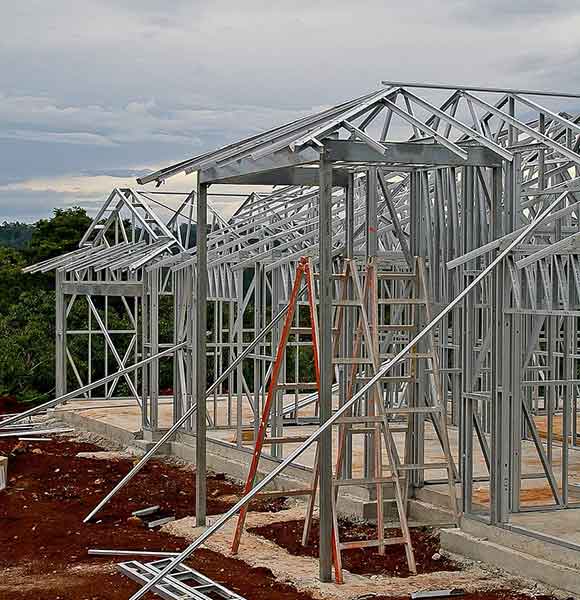 Steel frame houses are quickly becoming the number one choice for home builders around the United States. At Allbuild Construction, we offer new home buyers a wide range of steel frame houses, built from only quality materials. With years of experience supplying metal homes, we know the ins and outs of the steel frame homes industry. We've built a solid reputation for delivering meticulously designed and superbly crafted metal frame homes. No matter your budget, big or small, your steel frame house will be built to last. From pre-planning and drafting to helping get our steel frame house erected, we are dedicated to ensuring your total satisfaction.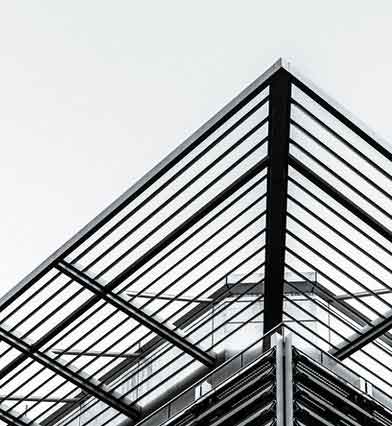 Types of Steel Frame Homes
Quonset Huts
Quonset Huts are some of the most popular building styles on the market today, because of the simplicity that these types of buildings offer. The classic Quonset Hut, which was originally designed as a quick and durable solution for troops in World War II, was known for its amazing strength and ease of construction. Since a Quonset hut is built using steel, it will last for an extended period of time. On average, a well-cared for Quonset hut can last for close to 100 years.
A-frame Homes
True to its name, an A-frame is an architectural house style that resembles the letter "A." This type of house features steeply angled walls that begin near the foundation, forming a triangle. A-frame steel frame homes can be built anywhere you want and on any style of foundation, existing or new. This home design became popular because of its snow-shedding capability, and its cozy cabin feel. A-frame homes were also especially popular for people who wanted a vacation home in snowy areas or in the mountains since they provide amazing views and are sturdy enough to withstand harsh weather.
Barndominiums
Barndominiums are quickly growing in popularity when it comes to living space solutions because they can be used for multiple purposes. They are affordable, elegant homes with beautiful exteriors that can be decorated with intricate masonry. This house can become a very cute building to live in, especially if you're tired of all the hustle in the big cities. Equal parts fashionable and functional, barndominiums can combine the curb appeal of a home with the affordability and durability of a steel building.
Cost of Steel Frame Home

As we all know, when it comes to new homes or a home extension, costs are all important. The cost of a steel frame home might depend on certain factors such as the location of the home, how complex you need it to be as well as whether you need things such as plumbing and electrical work.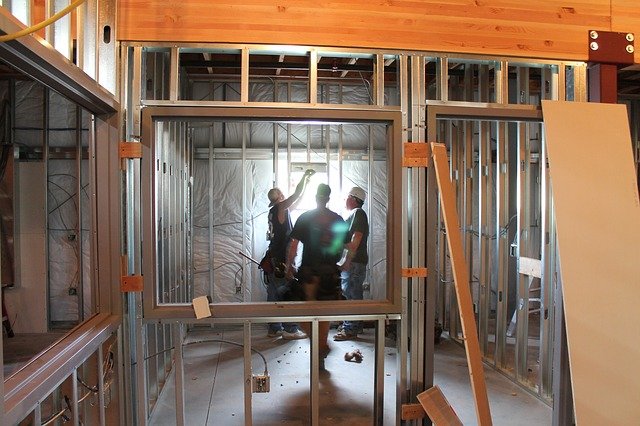 Benefits of Steel Frame Homes
Steel frame buildings are fast becoming a popular choice among builders, who understand the many benefits that come from using steel. In terms of construction costs, much of the saving will be in cost and labor benefits of reduced construction time. Other areas you will save include landfill fees and maintenance fees. Since steel is prefabricated, there is less wastage, and any of the waste can be recycled.
Steel Durability
The most significant benefit of steel framing is its durability. Unlike traditional wood framing, steel does not warp or expand. Steel provides stronger foundations preventing your home from sloping and sinking over time. Steel also does not rot, warp, crack, split or change with the weather and it is termite- and vermin-proof.
Customizable
Control every detail and aspect of your home, which means you have the final say on how it turns out. Steel's deep-rooted strength allows for architectural and design flexibility, and frames can be molded into long spans and curves that can be easily incorporated to suit a building's design.
High Resistance
Compared to wood frames, steel frames have a higher resistance to degradation. For example, if you compare a wooden floor and a steel floor, you are likely to notice warping on the wooden floor as the floor dries. Termites and other pests cannot burrow into the steel beams making infestations less likely and cheaper to treat. Finally, steel is non-combustible; meaning the frame of your home will remain intact even after a major fire.
Cost Effectiveness
Since fewer workers are required to fit steel, it's little wonder that steel is a cost effective material. When you consider all the benefits you get from steel compared to timber framing, steel is a better value for money. If you are building a home on a budget, metal is the way to go.
Environmentally Friendly
Homes that are built with steel frames tend to be more energy efficient than those built with timber frames. Steel framed homes tend to be more efficient in terms of thermal regulation, meaning less cooling in summer and heating in winter! If for whatever reason a steel home is disassembled, those materials can be recycled again to build something new.
Choosing a steel frame homes improves your resale value. A superior, modern, fully structurally engineered house frame made of steel easily stands the test of time. Steel frame homes are highly durable even under the most extreme circumstances and rarely need any repairs or maintenance making the cost of keeping a steel house almost non-existent. There are no limitations when you think about your steel house plan and design. Allbuild Construction team of professionals will receive your requirements or hand drafted plan and work on it to be presented as a steel frame homes solution.